Deutsch-Chinesische Enzyklopädie, 德汉百科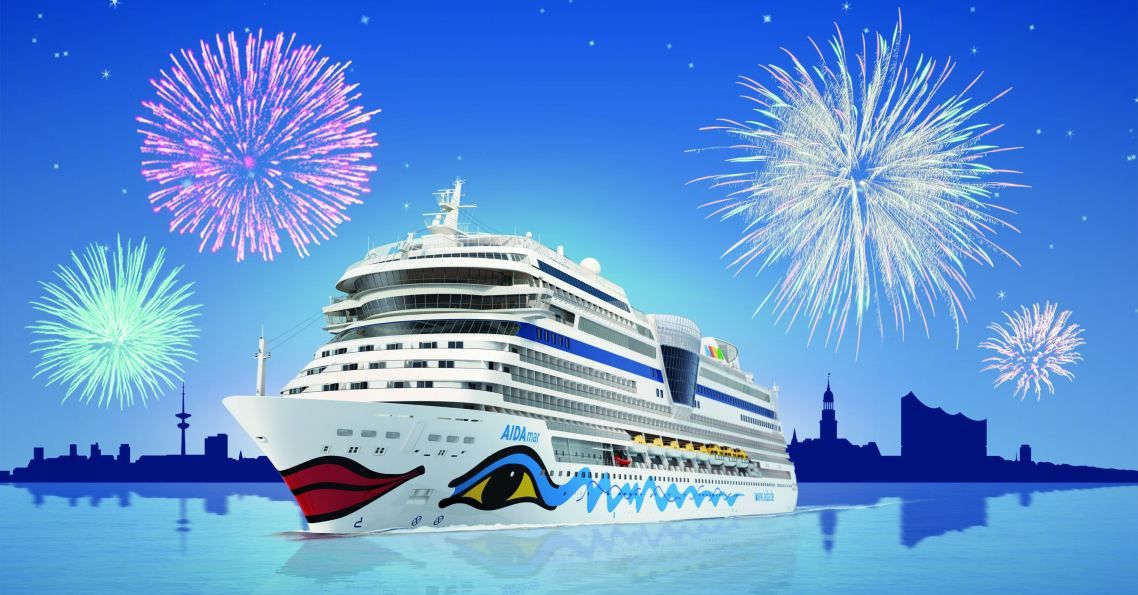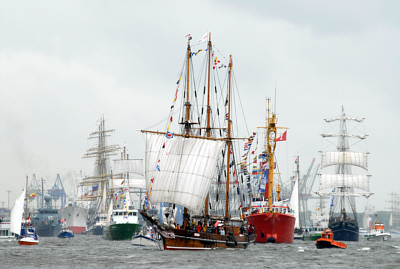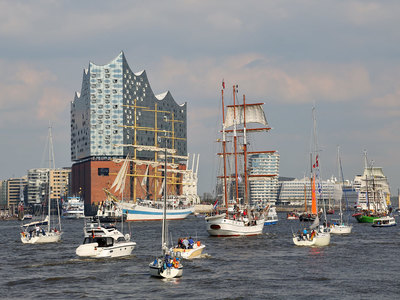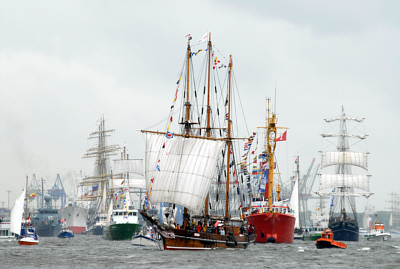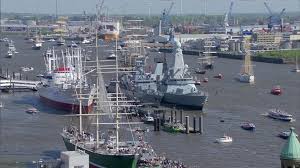 汉堡的夏日每年都由汉堡港口生日庆典拉开帷幕。今年五月7日至9日,汉堡港将举办有八百多年历史的第821届汉堡港口生日庆典活动。在每年五月的这几天都会有约140万来自国内外的观光客齐聚汉堡,一起欢庆这个世界上最大的港口节。从著名的景点仓库城到渔市拍卖大厅;从港口新城到奥菲哥纳(Oevelgoenne )露天船港博物馆,沿途的海、陆、空都将上演精彩绝伦的表演节目。
港口生日庆典活动的精华是易北河上的水上节目。传统的大型帆船游行、拖轮芭蕾、赛龙舟以及港口之光等活动更是其中的高潮。当大型帆船由海军舰艇护送,并在消防舰船喷出的喷泉的陪伴下沿着海港大道行进时,成千上万狂热的帆船迷以传统的方式迎接这些世界上最美的帆船。届时参加活动的300多只船会在港口首尾相连,形成一条绵延3公里以上的长龙。(Quelle:http://www.travelweekly-china.com/)
Hafengeburtstag ist im Allgemeinen eine Bezeichnung für den Gründungs- oder Eröffnungstag eines Hafens, beziehungsweise dessen jährliche Wiederkehr. Dieser kann wie ein Geburtstag oder rundes Jubiläum feierlich begangen werden.
In der Regel handelt es sich bei diesem Begriff, vor allem in Norddeutschland, um den Ehrentag des Hamburger Hafens, der unter diesem Namen in Hamburg seit 1977 alljährlich mit einem Volksfest (davor nur auf wirtschaftspolitischer Ebene im Übersee-Club) am und im Hafen sowie mit anderen Veranstaltungen gefeiert wird. Dieser Anlass wird in zeitlicher Nähe zum 7. Mai (dem Überseetag) begangen, der an den 7. Mai 1189 als vermeintlich herausragendes Datum der Hafengeschichte anknüpft.
Kaiser Friedrich Barbarossa soll den Hamburgern am 7. Mai 1189 einen Freibrief ausgestellt haben, der den Hamburgern Zollfreiheit für ihre Schiffe auf der Elbe von der Stadt bis an die Nordsee gewährte. Dieser Freibrief existiert allerdings nicht mehr im Original, sondern lediglich in einer 1265 gefertigten Abschrift, von der vermutet wird, dass sie zumindest inhaltliche Fälschungen enthält.
Für eine Fälschung sprechen: Erstens ist der Ausstellungsort in der Urkunde Neuenburg, doch Barbarossa weilte zur Vorbereitung des Kreuzzugs in Regensburg, und zweitens ist das kaiserliche Siegel an der Urkunde nicht von Barbarossa, sondern von seinem Enkel Kaiser Friedrich dem Staufer.[1][2][3]
Trotzdem begehen die Hamburger seit 1977 jedes Jahr für einige Tage um den 7. Mai den Hafengeburtstag. Von der Speicherstadt bis zum Museumshafen Oevelgönne wird an mehreren Live-Bühnen (Hafen Rock) und diversen anderen Lokalitäten gefeiert. Einige der größten Segelschiffe der Welt eröffnen die Feierlichkeiten mit einer großen Einlaufparade. Legendär ist das beliebte Drachenbootrennen auf der Elbe.
Das Fest in Hamburg dauert in der Regel drei Tage. Es beginnt mit der Einlaufparade am Freitag und endet mit der Auslaufparade am Sonntag. Zum Einlaufen beziehungsweise Auslaufen der Schiffe wird die jeweilige Nationalhymne gespielt, gegebenenfalls auch die Hamburg-Hymne (Hammonia), wenn es sich um ein Hamburger Schiff handelt.
Im Schnitt besuchen jedes Jahr über eine Million Menschen und ca. 300 Schiffe den Hafengeburtstag Hamburg.[4]
Zu den jährlichen Höhepunkten zählen das so genannte "Schlepperballett", die Ein- und Auslaufparaden und das große Feuerwerk am Sonnabend.
Hafengeburtstag (lit. Harbour Birthday, Port Anniversary) is an annual public festival and funfair in Hamburg, Germany. It takes place mostly on the first weekend of May to celebrate the anniversary of the port of Hamburg, the largest in Germany. In 2016, the 827th birthday was celebrated and a new record was set; more than a million spectators, among them many tourists from abroad, visited the city.[1]
The attractions of the Hafengeburtstag extend from Kehrwiederspitze near the Speicherstadt in the east to the Fish Auction Hall near Fischmarkt (Fish market) in the west. Many sailing vessels, tall ships among them, are tied up there, mostly at the Landungsbrücken (St. Pauli Piers). Vessels like Sea Cloud, Sedov, Gorch Fock and many others regularly visit Hamburg for the celebrations, also naval and cruise ships. The music festival Hafenrock takes place there on several stages, frequently including international artists. The Hafengeburtstag dates back to Emperor Frederick Barbarossa, who issued a charter to Hamburg merchants on 7 May 1189, granting freedom from customs duties for ships sailing the Elbe from Hamburg to the North Sea.[3] So on the weekend of or around 7 May the anniversary is annually celebrated. The modern public festival takes place since 1977.
This image, video or audio may be copyrighted. It is used for educational purposes only.
Author
2010 Hafengeburtstag Hamburg - PlanetSolar
2 years ago 7 months ago
This image, video or audio may be copyrighted. It is used for educational purposes only.
(Quelle:http://news.discovery.com)
Author
Dar Młodzieży 波兰的"达尔莫迪号" 长109米(359英尺),高50米(164英尺)
2 years ago 7 months ago
Author
Kruzenshtern 俄罗斯"Kruzenshtern"号帆船,全球最大型"三桅帆船"之一.
2 years ago 7 months ago
This image, video or audio may be copyrighted. It is used for educational purposes only.