Deutsch-Chinesische Enzyklopädie, 德汉百科

马格德堡(Magdeburg)位于易北河畔,是德国萨克森-安哈尔特州的首府,它是本州仅次于哈雷的第二大城市,也是三个Oberzentren之一。马格德堡还是基督教和天主教的主教教区首邑,拥有两所高等学府,马格德堡奥托·冯·格里克大学和马格德堡-斯腾达应用科学大学。
这个城市因曾经作为奥托一世的皇宫所在地而著名。奥托一世很有可能是962年建立的神圣罗马帝国的第一个皇帝。2005,马格德堡举办了建市1200周年庆典。
从语言学上讲,"Magdeburg"这个名字可以上溯到"Magadoburg"这个单词,意思可能是"Maechtige Burg"(中文:强大的城堡)。(Quelle: Wikipedia)
Magdeburg (ˈmakdəˌbʊʁk
Aussprache?/i, niederdeutsch Meideborg) ist die Hauptstadt des Landes Sachsen-Anhalt. Die Stadt an der Elbe ist eines der drei Oberzentren und ist mit 238.478 Einwohnern (Statistisches Landesamt Stand 31. Dezember 2017[2]) die zweitgrößte Stadt Sachsen-Anhalts und die fünftgrößte Stadt der neuen Bundesländer. Magdeburg stand 2016 auf der Liste der Großstädte in Deutschland auf Platz 31.
Erstmals urkundlich erwähnt wurde die Stadt im Jahr 805. 968 wurde durch Otto I., erster Kaiser des Heiligen Römischen Reiches (und zusammen mit Otto von Guericke Namenspatron der heutigen "Ottostadt Magdeburg") das Erzbistum Magdeburg begründet. Im Mittelalter erlangte die Hansestadt große Bedeutung durch den Freihandel und das Magdeburger Stadtrecht. Sie war im Spätmittelalter eine der größten deutschen Städte und Zentrum der Reformation und des Widerstandes gegen die Rekatholisierung im Schmalkaldischen Bund. Nach der fast völligen Verwüstung im Dreißigjährigen Krieg wurde Magdeburg zur stärksten Festung des Königreichs Preußen ausgebaut.
Im Jahr 1882 wurde Magdeburg mit über 100.000 Einwohnern zur Großstadt. Im Zweiten Weltkrieg wurde die Stadt erneut schwer getroffen: Nach dem Luftangriff am 16. Januar 1945 waren 90 % der dichtbesiedelten Altstadt, 15 Kirchen und weite Teile der Gründerzeitviertel stark zerstört. Zu DDR-Zeiten wurden mehrere kriegsbeschädigte beziehungsweise -zerstörte Bauwerke abgerissen, darunter 1956 die Ulrichskirche. Von 1952 bis 1990 war Magdeburg DDR-Bezirksstadt, seit 1990 ist sie Landeshauptstadt des Landes Sachsen-Anhalt.
Die Stadt am Schnittpunkt von Elbe, Elbe-Havel- und Mittellandkanal besitzt einen bedeutenden Binnenhafen und ist ein Industrie- und Handelszentrum. Von wirtschaftlicher Bedeutung sind der Maschinen- und Anlagenbau, Gesundheitswirtschaft, Umwelttechnologien und Kreislaufwirtschaft, Logistik sowie die Herstellung von chemischen Produkten, Eisen- und Stahlerzeugnissen, Papier und Textilien.
Magdeburg ist sowohl evangelischer als auch katholischer Bischofssitz. Das Wahrzeichen der Stadt ist der Magdeburger Dom.
In der Landeshauptstadt befinden sich zahlreiche bedeutende Kultureinrichtungen, darunter das Theater Magdeburg und das Kulturhistorische Museum Magdeburg. Magdeburg ist zudem Standort der Otto-von-Guericke-Universität sowie der Hochschule Magdeburg-Stendal.
Magdeburg (German pronunciation: [ˈmakdəbʊɐ̯k] (
listen); Low Saxon: Meideborg, [ˈmaˑɪdebɔɐ̯x]) is the capital city and the largest city of the state of Saxony-Anhalt, Germany. It is situated on the Elbe River.
Otto I, the first Holy Roman Emperor and founder of the archbishopric of Magdeburg, was buried in the town's cathedral after his death. Magdeburg's version of German town law, known as Magdeburg rights, spread throughout Central and Eastern Europe. Until 1631, Magdeburg was one of the largest and most prosperous German cities, and a notable member of the Hanseatic League.
Magdeburg has been destroyed twice in its history. The Catholic League sacked Magdeburg in 1631, resulting in the death of 25,000 non-combatants, the largest loss of the Thirty Years' War. Allies bombed the city in 1945, destroying much of it.
Magdeburg is the site of two universities, the Otto-von-Guericke University and the Magdeburg-Stendal University of Applied Sciences.[2]
Magdeburg is situated on autobahn route 2, and hence is at the connection point of the East (Berlin and beyond) with the West of Europe, as well as the North and South of Germany. As a modern manufacturing centre, the production of chemical products, steel, paper and textiles are of particular economic significance, along with mechanical engineering and plant engineering, ecotechnology and life-cycle management, health management and logistics.
In 2005 Magdeburg celebrated its 1200th anniversary. In June 2013 Magdeburg was hit by record breaking flooding.[3]
Magdebourg, en allemand Magdeburg, est une ville d'Allemagne orientale, capitale du Land de Saxe-Anhalt, sur les rives de l'Elbe. En 2011, sa population s'élève à 228 910 habitants.
Choisie par le premier empereur germanique Othon Ier (Otto der Große, Othon le Grand) vers 936 pour être la nouvelle capitale de l'Empire, Magdebourg a toujours été une des villes majeures de la vallée de l'Elbe. Centre d'échanges agricoles et de commerce des Saxons, à proximité des riches terres lœssiques des Börde, au contact de la grande plaine du nord et des massifs hercyniens, port fluvial d'importance capitale sur l'Elbe, Magdebourg est la cité archi-épiscopale pivot de l'évangélisation chrétienne des peuples du nord et de l'est avant d'être pendant longtemps une des plus importantes cités du Saint-Empire romain germanique.
Devenue une place forte protestante stratégique, Magdebourg est prise d'assaut par des mercenaires impériaux catholiques, menés par le général Tilly, et complètement ravagée par un terrible incendie le 10 mai 1631 pendant la guerre de Trente Ans (l'incendie auraient fait périr 25 000 personnes sur les 30 000 qui peuplaient la ville). La cité protestante s'appliqua ensuite à reprendre avec brio sa place économique, au point de devenir synonyme de ville usine après la révolution industrielle, mais elle ne retrouva jamais son ancien rôle central en droit judiciaire et politique. Elle fut rapidement prise dans l'orbite de la Prusse et sa région était appelée « Saxe prussienne » au XIXe siècle.
Cette ville est célèbre pour l'expérience des hémisphères de Magdebourg, montrant la force de la pression atmosphérique. Elle fut réalisée par Otto von Guericke, maire de Magdebourg à partir de 1654.
Magdeburgo (in tedesco Magdeburg, in basso tedesco Meideborg, nota in italiano storico come Madeburgo), è una città extracircondariale (targa MD), capitale del Land Sassonia-Anhalt. Con i suoi 230.456 abitanti,[1] è la seconda città del proprio stato federato per popolazione - dopo Halle - ed uno dei tre Oberzentren del Land designati dal piano nazionale di sviluppo 2002.
La città è famosa per il proprio consistente patrimonio storico-artistico, tra cui spicca il Palazzo Imperiale di Ottone I, primo imperatore del Sacro Romano Impero. Ospita sia la sede vescovile evangelica, sia quella cattolica. Sul territorio sono presenti due università: la Otto-von-Guericke-Universität Magdeburg e la Hochschule Magdeburg-Stendal.
La città ha festeggiato, nel 2005, i suoi primi 1200 anni dalla fondazione, e dal 2010 ha adottato il soprannome di Ottostadt, la città di Ottone.
Magdeburgo (en alemán: Magdeburg
[ˈmakdəˌbʊʁk] (?·i)) es una ciudad de Alemania a orillas del río Elba, capital del estado federado de Sajonia-Anhalt. La ciudad experimenta actualmente una intensa reconstrucción, que intenta reemplazar los antiguos edificios de la era comunista.
En 1989 vivían en ella 288.000 habitantes, aunque posteriormente la cifra había descendido a menos de 230.000 debido a que en tiempos de la RDA la ciudad era un importante centro industrial, pero tras la reunificación alemana se consideró que sus empresas no eran competitivas y tuvieron que cerrar. Actualmente la ciudad está recuperando su población, con 241.769 habitantes a 31 de diciembre de 2017 y está en la posición 31 de las más pobladas de Alemania.
En Magdeburgo están sepultados los restos de Otón I de Alemania, primer emperador del Sacro Imperio Romano Germánico.
Ма́гдебург (нем. Magdeburg [ˈmakdəbʊrk]
слушать, н.-нем. Meideborg [ˈmaˑɪdebɔɐx], Madeborg, в.-луж. Dźěwin, н.-луж. Źěwin, ист. польск. Dziewin, ист. чеш. Děvín) — столица земли Саксония-Анхальт, Германия. Расположен на средней Эльбе, у восточного края Магдебургской бёрды.
В течение своего многовекового существования Магдебург многократно испытывал разные невзгоды. Упоминается как торговый пункт с 805 года.
Император Оттон I основал здесь бенедиктинский монастырь в 937 году. В 970—980 годы в соборной школе Магдебурга учился св. Адальберт-Войтех под руководством Адальберта Магдебургского.
В 1013 году город был разорён польским королём Болеславом I Храбрым.
Как участник Шмалькальденской лиги, Магдебург был осаждён с октября 1550 по август 1551 года войсками Морица Саксонского, и наконец должен был покориться и принять неприятельский гарнизон.
This image, video or audio may be copyrighted. It is used for educational purposes only.
This image, video or audio may be copyrighted. It is used for educational purposes only.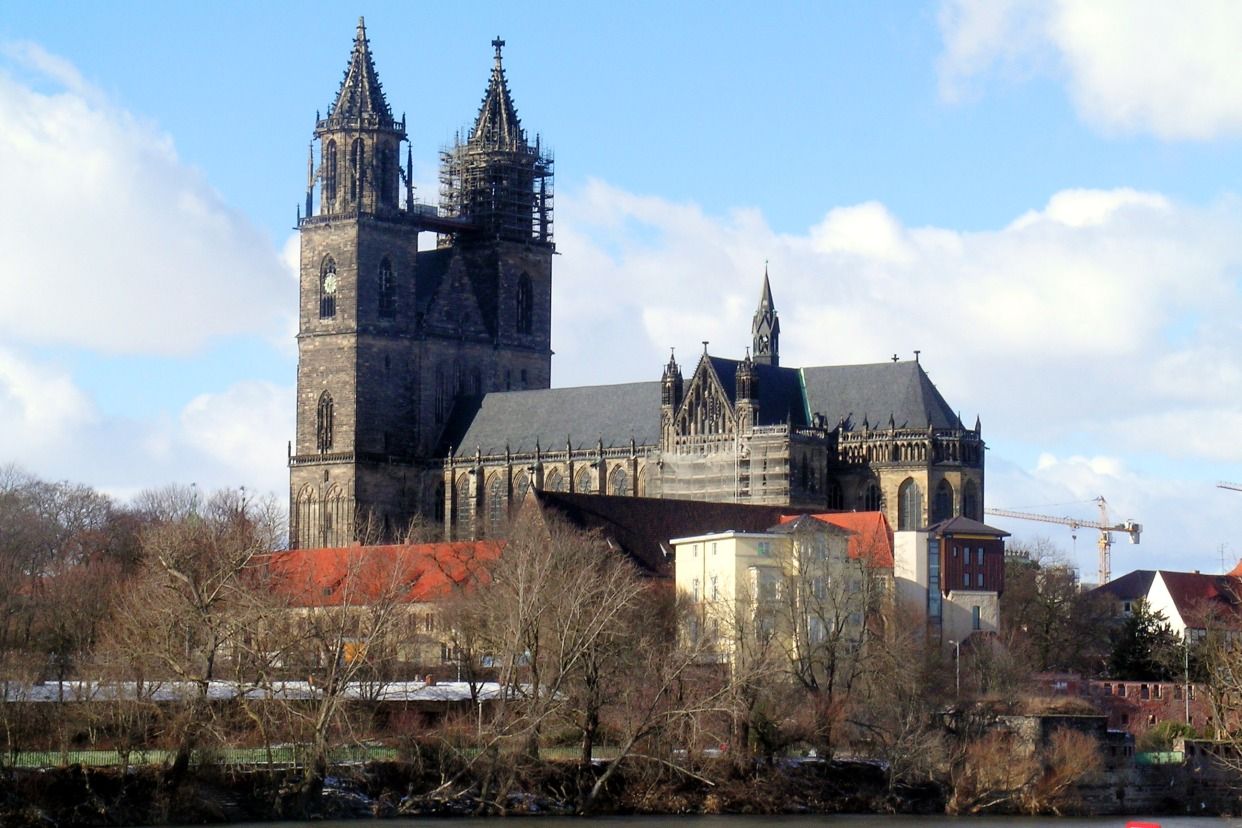 This image, video or audio may be copyrighted. It is used for educational purposes only.