Deutsch-Chinesische Enzyklopädie, 德汉百科
维罗纳歌剧节/Opernfestspiele Arena di Verona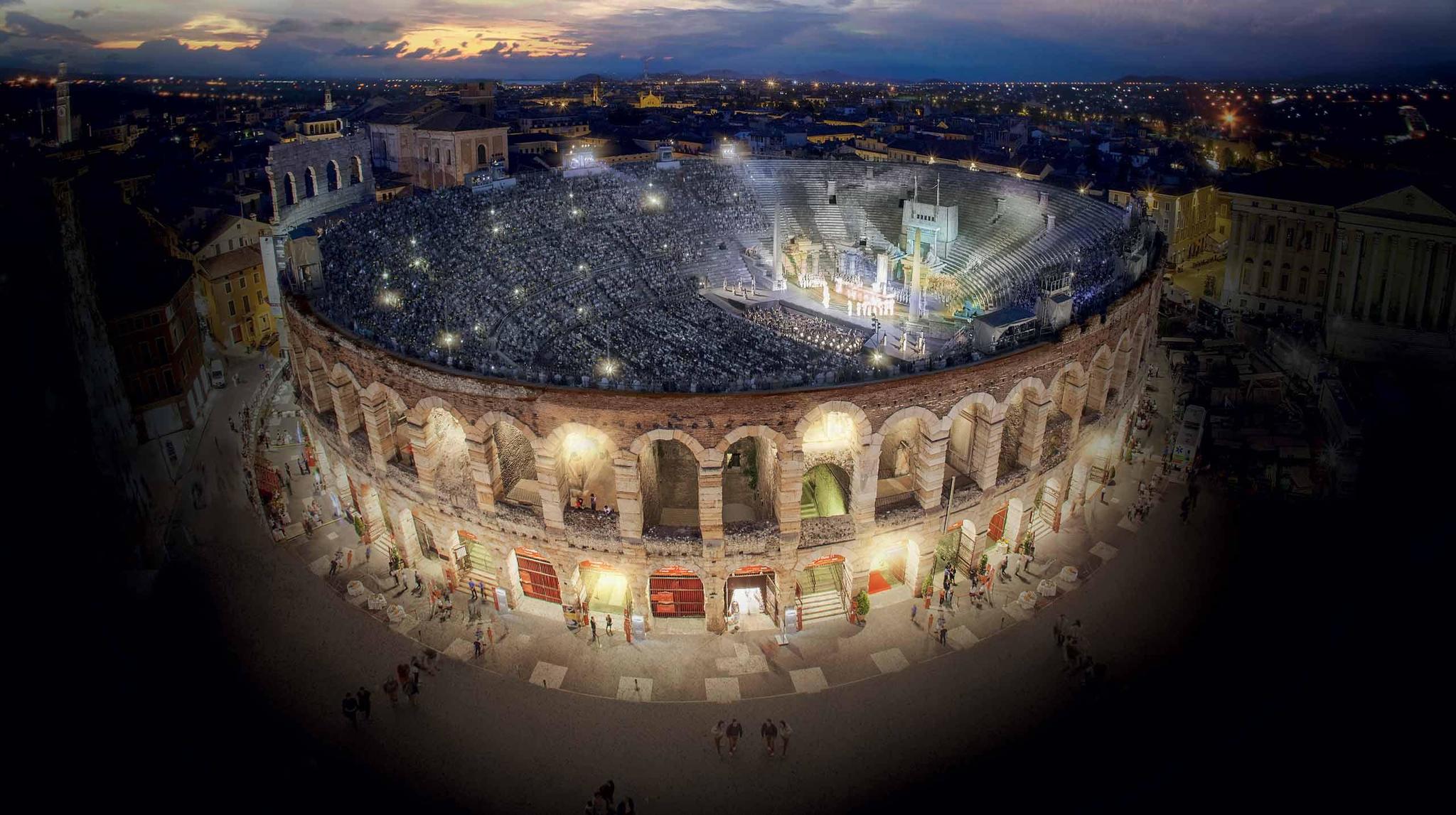 Die
Arena von Verona
(
italienisch
Arena di Verona
) ist ein gut erhaltenes
römisches
Amphitheater
in der
italienischen
Stadt
Verona
.
Das Theater wurde etwa im Jahr 30 n. Chr. errichtet und lag damals außerhalb der römischen Stadtmauer Veronas. In römischer Zeit fasste die Arena über 30.000 Zuschauer und wurde für Gladiatorenkämpfe und Wettkämpfe genutzt. Die Fassade war mit weißem und rosa Kalkstein verkleidet. Nach einem Erdbeben im Jahr 1117, bei dem der größte Teil des Außenrings zerstört wurde, diente die Arena als Steinbruch für die wachsende mittelalterliche Stadt. Es sind nur noch vier Bögen des ehemals die Arena vollständig umfassenden Außenrings erhalten. Sie werden von den Veronesern "l'ala" – der Flügel – genannt. Im Jahr 1278 war die Arena der Schauplatz der letzten großen Katharer-Hinrichtung: Nach den Erfolgen der Inquisition in den 1250er Jahren in Südfrankreich in deren Kampf gegen die Katharer zogen sich die Überlebenden nach Norditalien zurück. Sie konnten die Festung Sirmione als letzte Zufluchtsstätte halten. 1276 wurde die Burg jedoch eingenommen und die Katharer, die die Eroberung überlebt hatten, wurden im Jahr 1278 in der Arena von Verona verbrannt.
In der Renaissance gab es Bestrebungen, das Bauwerk wieder als Theater zu nutzen. Dies geschieht aber erst seit 1913 regelmäßig. Am 10. August 1913 wurde anlässlich des 100. Geburtstags von Giuseppe Verdi die Oper Aida aufgeführt. Aufgrund der hervorragenden Akustik konnte sich die Arena schnell als Konzertstätte etablieren. Vor allem in den Monaten Juni, Juli und August finden Opernaufführungen und Rock-Konzerte statt.
アレーナ・ディ・ヴェローナ(Arena di Verona)はイタリア・ヴェローナにある古代ローマ時代の円形闘技場。現在は夏期の屋外オペラ公演によって有名である。
"Arena"とはラテン語で「砂」を意味し、これは闘技あるいは演劇などの催される平土間部分に敷き詰められた砂に由来している。
長径139メートル、短径110メートルの楕円形のこの闘技場はローマ帝国初代皇帝アウグストゥス(在位 前27年 - 14年)の統治末期か、あるいは遅くとも30年頃完成したと考えられているが正確な日時は特定されていない。もともとはローマ時代の都市を防御していた壁の外側に位置していたが、市域の拡張に伴い、現在ではヴェローナ市街地のほぼ中心に位置している。観客席は44段の大理石製で、収容人数は約25,000人であったとされている。
外観は2階建てのアーチ(あるいはアルコーブ)である。創建当初はこのさらに外周に大理石造り、3階構造のアーチをもつ外壁が存在したが、1117年の地震で大部分が倒壊、僅かにその遺構を北西部に留めるのみである。
The Verona Arena (Italian: Arena di Verona [aˈrɛːna di veˈroːna, aˈreːna -]) is a Roman amphitheatre in Piazza Bra in Verona, Italy built in the first century. It is still in use today and is internationally famous for the large-scale opera performances given there. It is one of the best preserved ancient structures of its kind. In ancient times, the arena's capacity was nearly 30,000 people. The stage for concerts and opera performances decreases the available places to a maximum of 15,000. It will be used as the closing ceremony for the 2026 Winter Olympics in Milan and Cortina d'Ampezzo.
Les arènes de Vérone sont un amphithéâtre romain situé à Vérone (province de Vénétie, dans le nord de l'Italie). Construites en 30 apr. J.-C., elles pouvaient accueillir environ 30 000 spectateurs.
L'Arena di Verona è un anfiteatro romano situato nel centro storico di Verona, icona della città veneta insieme alle figure di Romeo e Giulietta. Si tratta di uno dei grandi fabbricati che hanno caratterizzato l'architettura romana ed uno degli anfiteatri antichi giunto a noi con il miglior grado di conservazione, grazie ai sistematici restauri eseguiti fin dal Cinquecento; proprio per questo motivo, nonostante le numerose trasformazioni subite, esso consente al visitatore di poter facilmente comprendere la struttura di questo genere di edifici, rigorosamente soggetti alla funzione cui erano destinati ma dotati comunque di una essenziale bellezza.[1]
Nella stagione estiva ospita il celebre festival lirico areniano, le cui stagioni si svolgono ininterrottamente dal 1913,[N 1] mentre in quelle primaverile e autunnale è tappa di molti cantanti e musicisti internazionali.
La Arena de Verona es un anfiteatro romano ubicado en la ciudad de Verona, Italia, conocido por las producciones de ópera que se realizan en él (Festival de Verona). Es una de las estructuras de su estilo mejor conservadas.
El edificio fue construido en el año 30 d.C. en un lugar que entonces estaba fuera de las murallas de la ciudad. Los ludii (espectáculos y juegos) que se escenificaban en él eran tan famosos que los espectadores solían venir desde muchos otros lugares, a veces muy distantes. El anfiteatro tiene una capacidad para 30 000 espectadores.
La fachada era originalmente de piedra caliza blanca y rosa de Valpolicella. Después de un terremoto ocurrido en 1117, que casi destruye el anillo externo (con la excepción de la llamada Ala), la Arena fue utilizada como cantera para otros edificios. Las primeras intervenciones que se hicieron para restaurar su funcionalidad como teatro se llevaron a cabo en el Renacimiento.
Gracias a su impresionante acústica, el edificio se presta para conciertos, práctica que se inició en 1913 con la primera edición del Festival de Verona. Hoy en día alrededor de cuatro óperas del repertorio estándar son producidas cada año, entre junio y septiembre. En los últimos años también se han celebrado numerosos conciertos de música ligera de artistas italianos como Umberto Tozzi, Claudio Baglioni, Tiziano Ferro, Adriano Celentano, Gianni Morandi, Laura Pausini o Il Volo, pero también internacionales como Roger Waters, Paul McCartney, Elton John, Duran Duran, Adele, Spandau Ballet, Deep Purple o Sting.
Fue el lugar elegido por el Giro de Italia para finalizar la prueba al menos en tres ocasiones. Francesco Moser se proclamó vencedor del Giro del año 1984 gracias a la victoria en esa etapa, que se celebró contra el crono, y el Giro de Italia 2010 también acabó con una contrarreloj en esa última etapa. Esta vez el vencedor de la etapa fue Gustav Larsson, pero no cambió el líder como 26 años antes. El día 2 de junio de 2019, Richard Carapaz se proclamó campeón del Giro de Italia 2019 en la última contrarreloj celebrada en Verona, con final de etapa en la misma Arena de Verona. Carapaz se ha convertido en el primer ecuatoriano en ganar una gran vuelta internacional.
Арена-ди-Верона[2] (итал. Arena di Verona) — название, под которым известен античный римский амфитеатр, построенный в Вероне (Италия) около 30 года нашей эры. Расположен на главной площади города — Пьяцца Бра. Арена-ди-Верона является всемирно известной концертной площадкой.
Амфитеатр в Вероне четвёртый по размеру среди аналогичных римских построек в Италии (после Колизея, амфитеатра в Санта-Мария-Капуа-Ветере и амфитеатра в Поццуоли). Одно из наиболее хорошо сохранившихся сооружений подобного типа. В 2000 году в составе прочих исторических памятников Вероны амфитеатр был включён в число памятников Всемирного наследия[3].
This image, video or audio may be copyrighted. It is used for educational purposes only.
This image, video or audio may be copyrighted. It is used for educational purposes only.