Die Eremitage [eʁɘmiˈtaːʒ] oder Ermitage (russisch Эрмитаж) in Sankt Petersburg an der Newa ist eines der größten und bedeutendsten Kunstmuseen der Welt. Auch der Gebäudekomplex, der das Museum beherbergt und zu dem der berühmte Winterpalast gehört, wird heute zusammenfassend als Eremitage bezeichnet. Er ist ein zentraler Bestandteil der zum UNESCO-Weltkulturerbe erklärten Sankt Petersburger Innenstadt.
Im Archiv befinden sich fast drei Millionen Objekte, unter anderem archäologische Fundstücke sowie die neben dem Louvre und dem Prado bedeutendste Sammlung klassischer europäischer Kunst. In mehr als 350 Sälen sind etwa 65.000 Exponate ausgestellt. Zu den ausgestellten Bildern gehören Werke holländischer und französischer Meister wie Rembrandt, Rubens, Matisse und Paul Gauguin. Außerdem sind zwei Gemälde des italienischen Universalgenies Leonardo da Vinci sowie im nahegelegenen Generalstabsgebäude 31 Gemälde des spanischen Malers Pablo Picasso ausgestellt. Das Museum hat etwa 2.500 Mitarbeiter.
Der Name "Hermitage" stammt aus dem Altfranzösischen und bedeutet Einsiedelei. Hierhin zogen sich die Zaren vom politischen Alltag zurück, um sich nur mit Kunst und Muse zu umgeben.
Ursprünglich trugen nur die Kleine Eremitage sowie die anschließende Alte Eremitage und das Eremitage-Theater diese Bezeichnung. Im Laufe der Zeit durch die Vergrößerung der kaiserlichen Kunstsammlung wurden im 18. und 19. Jahrhundert die Bauwerke vergrößert und erweitert. Mit dem Bau der Neuen Eremitage als Museum verwandelte sich die Sammlung in ein öffentliches Museum und der Name wurde allgemein für den gesamten Gebäudekomplex verwendet.
Nach der russischen Revolution von 1917 wurde der benachbarte Winterpalast, die ehemalige Hauptresidenz der russischen Zaren, ebenfalls dem Museum übertragen und der Öffentlichkeit zugänglich gemacht. Ende des 20. Jahrhunderts expandierte das Museum erneut, neben dem eigentlichen Eremitage-Komplex kamen noch ein Teil des Generalstabsgebäudes (auf dem Palastplatz gegenüber dem Winterpalast) und des Menschikow-Palais zu den Räumlichkeiten des Museums hinzu.
埃尔米塔日博物馆(俄语:Госуда́рственный Эрмита́ж,IPA:[gəsʊˈdarstvʲɪnɨj ɪrmʲɪˈtaʂ]),又译隐士庐博物馆,位于圣彼得堡的涅瓦河边,共有6座主要建筑:冬宫、小埃尔米塔日、旧埃尔米塔日、埃尔米塔日剧院、冬宫储备库、新埃尔米塔日。在这个建于18-19世纪的建筑群中,冬宫是一座主要建筑,也曾经是俄罗斯沙皇的宫邸,由设计师拉斯特雷利设计并建于1754—1762年。建筑群还包括总参谋部东配楼、缅希科夫宫和不久前建成的储藏库,总面积近130万平方米。埃尔米塔日博物馆共有1000个展览厅,对公众开放的有350个。展出的艺术品约占全部收藏品的5%。和埃尔米塔日同等级别的博物馆,如卢浮宫博物馆、普拉多博物馆的展览比例为10%。在整修之后,埃尔米塔日博物馆将展览20%的收藏品。埃尔米塔日博物馆每年在国外举办相当多的展览,并积极地在不同国家开设自己的分支机构。它在伦敦、阿姆斯特丹都拥有展览中心。每年参观埃尔米塔日博物馆的游客人数近200万。
在约250年的时间里,埃尔米塔日博物馆收集了近三百万件从石器时代至当代的世界文化艺术珍品,与英国大英博物馆、美国大都会博物馆、法国卢浮宫并称为世界四大博物馆。现在,借助现代科技手段,埃尔米塔日博物馆正在制作自己的数位博物馆,全世界皆可以看到。 这座占据了整整一个街区的三层建筑规模宏大,装饰豪华。从不同的角度看,冬宫给人留下不同的印象。这是因为它正面的各种结构在整体对称的同时又具自的韵律,而且,它外表的雕像装饰丰富多样。别具匠心的门廊设计、豪华的科林斯柱式、复杂的飞檐曲线、造型各异的雕塑与花瓶、绚丽多样的色彩使冬宫具有俄罗斯巴洛克建筑所特有的豪华风格。
エルミタージュ美術館(エルミタージュびじゅつかん、露: Эрмитаж エルミターシ、英: Hermitage Museum)は、サンクトペテルブルクにあるロシアの国立美術館。 1990年に世界遺産(サンクトペテルブルク歴史地区と関連建造物群)に包括登録されている。 小エルミタージュ(Малый Эрмитаж)、旧エルミタージュ(Старый Эрмитаж)、新エルミタージュ(Новый Эрмитаж)、エルミタージュ劇場(Эрмитажный театр)、冬宮殿(Зимний дворец)の5つの建物が一体となって構成されており、現在本館となっている冬宮殿はロマノフ朝時代の王宮である。
The State Hermitage Museum (Russian: Госуда́рственный Эрмита́ж, tr. Gosudárstvennyj Ermitáž, IPA: [ɡəsʊˈdarstvʲɪnɨj ɪrmʲɪˈtaʂ]) is a museum of art and culture in Saint Petersburg, Russia. The second-largest art museum in the world,[2][3] it was founded in 1764 when Empress Catherine the Great acquired an impressive collection of paintings from the Berlin merchant Johann Ernst Gotzkowsky. The museum celebrates the anniversary of its founding each year on 7 December, Saint Catherine's Day.[4] It has been open to the public since 1852.
Its collections, of which only a small part is on permanent display, comprise over three million items (the numismatic collection accounts for about one-third of them),[5] including the largest collection of paintings in the world.[citation needed] The collections occupy a large complex of six historic buildings along Palace Embankment, including the Winter Palace, a former residence of Russian emperors. Apart from them, the Menshikov Palace, Museum of Porcelain, Storage Facility at Staraya Derevnya, and the eastern wing of the General Staff Building are also part of the museum. The museum has several exhibition centers abroad. The Hermitage is a federal state property. Since July 1992, the director of the museum has been Mikhail Piotrovsky.[6]
Of the six buildings in the main museum complex, five—namely the Winter Palace, Small Hermitage, Old Hermitage, New Hermitage, and Hermitage Theatre—are open to the public. The entrance ticket for foreign tourists costs more than the fee paid by citizens of Russia and Belarus. However, entrance is free of charge the third Thursday of every month for all visitors, and free daily for students and children. The museum is closed on Mondays. The entrance for individual visitors is located in the Winter Palace, accessible from the Courtyard.
Le musée de l'Ermitage (en russe : Государственный Эрмитаж, Gossoudarstvenny Ermitaj) est un musée situé à Saint-Pétersbourg, au bord de la Neva.
Fondé en 1764, c'est le plus grand musée du monde en termes d'objets exposés (plus de soixante mille pièces dans près de mille salles tandis que près de trois millions d'objets sont conservés dans les réserves). Avec ses 230 000 m2 de surface, dont 66 000 m2 consacrés aux expositions, il s'agit de l'un des trois plus grands musées d'art du monde aux côtés du Louvre et du Metropolitan Museum. Le musée présente, à côté de nombreuses pièces de l'Antiquité, une collection d'œuvres d'art européen de la période classique qui compte parmi les plus belles au monde. Il abrite notamment la plus grande collection du monde de peintures, avec plus de seize mille toiles. Parmi les œuvres exposées, figurent des peintures de maîtres hollandais et français comme Rembrandt, Rubens, Henri Matisse et Paul Gauguin. On y trouve également deux peintures à l'huile de Léonard de Vinci ainsi que trente-et-une peintures de Pablo Picasso. Le musée emploie deux mille cinq cents personnes et utilise l'aide de nombreux stagiaires gérés par le service des volontaires du musée de l'Ermitage.
Les bâtiments abritant le musée de l'Ermitage constituent un des principaux ensembles du centre de Saint-Pétersbourg qui est classé au patrimoine mondial de l'Unesco.
L'Ermitage, o Hermitage, ufficialmente Museo statale Ermitage (in russo: Госуда́рственный Музе́й Эрмита́ж?, traslitterato: Gosudarstvennyj Muzej Ėrmitaž), si trova in Russia a San Pietroburgo, sul lungoneva del Palazzo e ospita una delle più importanti collezioni d'arte del mondo; l'edificio in origine faceva parte della reggia imperiale che per due secoli ospitò le famiglie degli zar Romanov, fino al 1917, anno dell'inizio della Rivoluzione d'Ottobre. È uno dei musei d'arte più visitati al mondo.
Il museo espone opere di numerosissimi autori, fra i quali Caravaggio, Antonio Canova, Francesco Casanova, Paul Cézanne, Giambattista Pittoni, Leonardo da Vinci, Jacques-Louis David, Edgar Degas, Paul Gauguin, Fra Filippo Lippi, Henri Matisse, Claude Monet, Pablo Picasso, Pierre-Auguste Renoir, Rembrandt, Vincenzo Petrocelli, Pieter Paul Rubens, Tiziano Vecellio, Vincent van Gogh, Jacob van Ruisdael, Diego Velázquez, Paolo Pagani.
El Museo del Hermitage (en ruso Эрмитаж, ermitazh, proveniente del francés ermitage, «ermita», «refugio del ermitaño»)2​ de San Petersburgo, Rusia, es una de las mayores pinacotecas y museos de antigüedades del mundo. La colección del museo ocupa un complejo formado por seis edificios situados a la orilla del río Neva, siendo el más importante de estos el Palacio de Invierno, residencia oficial de los antiguos zares. El resto del complejo arquitectónico lo forman cinco edificios, entre los que se encuentran el Palacio Menshikov, el Edificio del Estado Mayor y un recinto para almacenamiento abierto. El museo se formó con la colección privada que fueron adquiriendo los zares durante varios siglos, y no fue hasta 1917 cuando fue declarado Museo Estatal.
Su colección, formada por más de tres millones de piezas, abarca desde antigüedades romanas y griegas, a cuadros y esculturas de la Europea Occidental, arte oriental, piezas arqueológicas, arte ruso, joyas o armas. Su pinacoteca está considerada una de las más completas del mundo. El museo es uno de los museos más grandes del mundo.
Госуда́рственный Эрмита́ж (до 1917 года — Императорский Эрмитаж) — музей изобразительного и декоративно-прикладного искусства, расположенный в комплексе Зимнего дворца в центре Санкт-Петербурга. Один из крупнейших и наиболее значительных художественных и культурно-исторических музеев мира.
Свою историю музей начинал с коллекции произведений искусства, приобретённых в частном порядке российской императрицей Екатериной II. Первоначально это собрание размещалось в специальном дворцовом флигеле — Эрмитаже (от фр. ermitage — место уединения, келья, приют отшельника, затворничество; ныне Малый Эрмитаж) — откуда и закрепилось общее название будущего музея[1]. В 1852 году из сильно разросшейся коллекции был сформирован и открыт для посещения публичный музей, расположившийся в специально для этого построенном здании Нового Эрмитажа.
Современный Государственный Эрмитаж представляет собой сложный музейный комплекс. Основная экспозиционная часть музея занимает пять зданий, расположенных вдоль набережной реки Невы, главным из которых принято считать Зимний дворец, также музею принадлежат Восточное крыло Главного штаба на Дворцовой площади, Меншиковский дворец на другой стороне Невы, фондохранилище в Старой Деревне и другие здания[⇨]. Коллекция музея насчитывает около трёх миллионов произведений искусства и памятников мировой культуры, начиная с каменного века и до нашего столетия.
This image, video or audio may be copyrighted. It is used for educational purposes only.
This image, video or audio may be copyrighted. It is used for educational purposes only.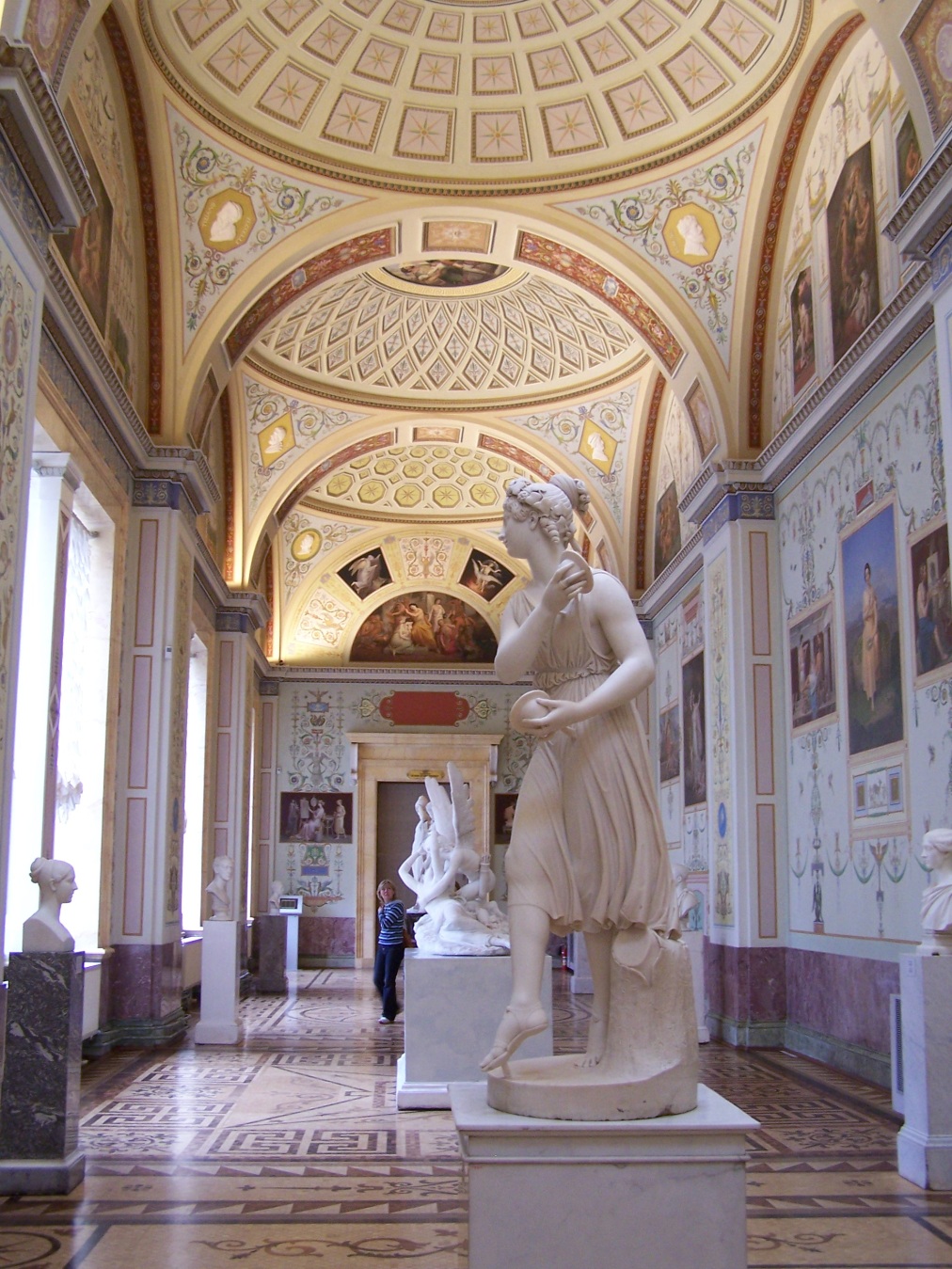 This image, video or audio may be copyrighted. It is used for educational purposes only.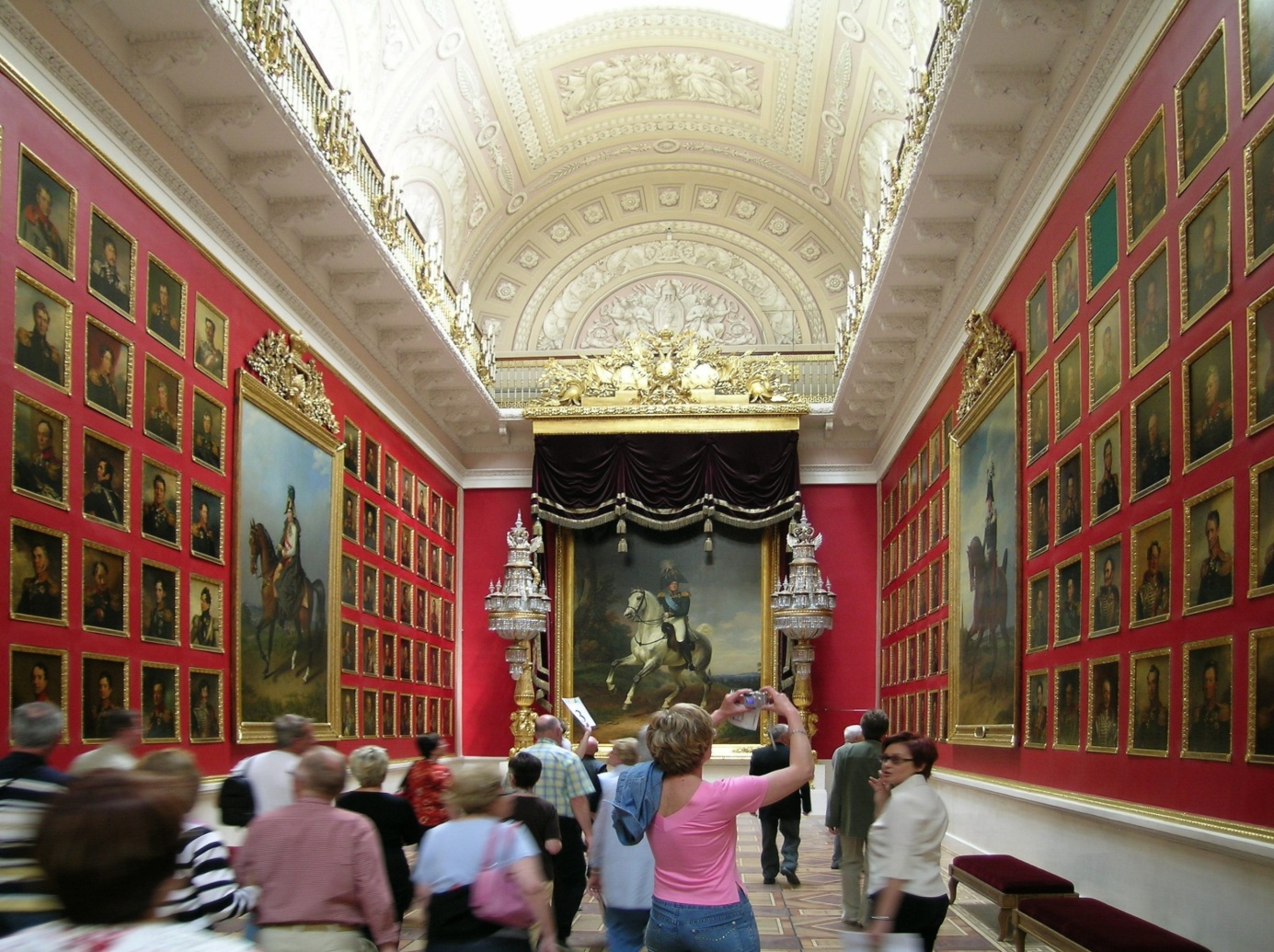 This image, video or audio may be copyrighted. It is used for educational purposes only.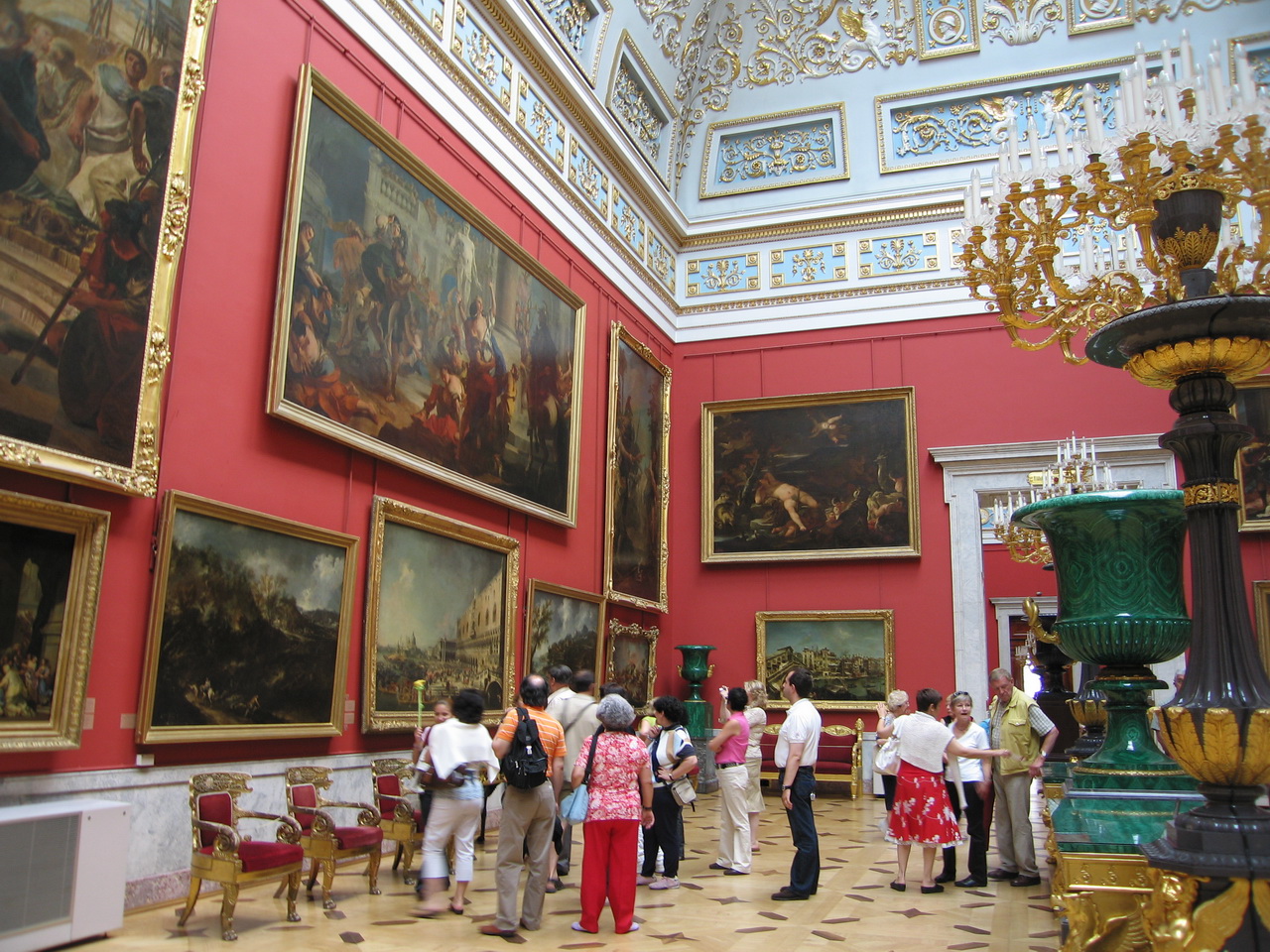 This image, video or audio may be copyrighted. It is used for educational purposes only.